"Russian speakers have become their enemies"
Do you want to once again be convinced of the correctness of the special military operation launched on February 24? There is a relatively simple way. Talk to people who these days stand in line for days to apply for Russian citizenship in the territories liberated from the Armed Forces of Ukraine. I found such a line in the resort town of Berdyansk, from which the Armed Forces left in March. The stories of those who decided to become Russians confirm that the Kyiv authorities, over 30 years of imaginary independence, brought the country to the edge, and millions of people turned hostile against themselves.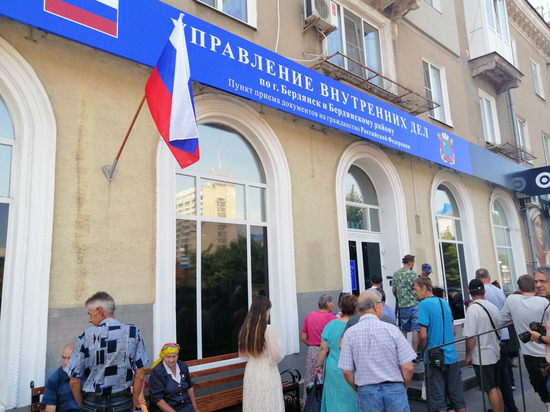 Photo: Sergey Valchenko
It's amazing: ordinary citizens – not politicians, not leaders – understand life better than hundreds of Ukrainian bureaucrats in various councils and governments. What are they talking about? About, for example, that life was best when everyone was together, in a single Soviet Union, when everyone supported each other. In relation to the Kyiv authorities for 30 years of their rule, there are only negative emotions.
Here is a married couple from Ugledar who arrived in Berdyansk. The city is still under the APU. They say that they did not personally vote for Zelensky, but many people believed him. In the second round, where he went out with Poroshenko, people voted not for Zelensky but against Poroshenko, that is, against the war. He deceived everyone. People understand this and hate him for cheating. The biggest sin is deception of those who trusted.
Michael, a native of Berdyansk, director of the local equestrian club "Wild Division" also came here for Russian citizenship. His story about the last thirty years of his life helps to understand a lot about what is happening today in Ukraine.
"Listen, I was born in the Soviet Union," Mikhail began, "I grew up under it, entered a military school. And then suddenly Belovezhskaya Pushcha – the signing of agreements, the Soviet Union collapsed. By that time I was studying at the military school of the ground forces in Odessa. He entered under the USSR, graduated under Ukraine.
As an officer, instead of doing combat training, he whitewashed the walls, painted houses, and cleaned up military camps with a brush. When I said all this to the general, the division commander, I was dismissed with a bang.
And then, when the events in 2014-2015 began, everyone abruptly remembered me. But I forgot about them. Twice they tried to draft me into the army, I went to the Crimea twice. My aunt lives in the Crimea, near Sevastopol.
– How did you manage to avoid mobilization?
– Because I studied to be a scout in the army (smiles). The specifics helped. The first time, if I had been called up, I would have ended up in the Debaltsevo cauldron, and if in the second, a little later, then in Ilovaisky. Well, okay, if a person is killed, then half the trouble. Well, no and no. And if you return disabled – without an arm, without a leg, without a brain? They promise a lot but actually do nothing. from the word "absolutely".
Here they say, in Ukraine, they say, democracy, freedom of speech. But, if a person spoke about what he was thinking about, you were abruptly summoned to the Security Service of Ukraine. I was called twice. You've been warned not to say too much. Our TV channels were closed. Double standards all around. Some oligarchs are imprisoned, others are released.
Those who told a lot, they were taken away – and make ends meet. Have you heard – Mariupol, "Airport", "Library"? (prisons of the national battalion "Azov" banned in the Russian Federation. – "MK"). They took me twice. For calling a spade a spade. And this could not be done.
I criticized the authorities for tariffs. I will never forget when one deputy from the Green Party said on the TV screen: "If you have nothing to pay utility bills or live on, then sell the dog – pay for gas."
I'm still the ataman of the Cossacks, the Cossack squad Yesaul. Once we were gathered in the city executive committee. A Cossack general arrived from Zaporozhye, with a bunch of orders on his chest, as if he had gone through three wars, and an American with him. And they began to teach how to properly take action against people who came from Donbass.
And when he asked me about the attitude towards the Maidan, I honestly say: this is an armed coup supported by local oligarchs and paid for by Western countries. Immediately after that, an inconspicuous little man approached me and said: your data. I ask, who are you? "I am from the SBU," he replies. I'm very happy, I say. I gave my name, surname, where I live. What do I have to lose? The next day, a summons to the army came, at the moment.
– Why did you go to a military school in your youth?
– I wanted to defend my homeland – the Soviet Union. Our homeland was one, large and multinational. And under Ukraine, they began to impose: "Ukraine needs to be used", Ukrainians are a caste of God, the Black Sea was dug out with shovels, and other nations are secondary. And the last straw for me was that in 2014, the herald of the Maidan, the future Minister of Culture Oniychuk, speaking on television, said that the people of the south-west are people of the "zavezeny" and second-class.
That is, when Western Ukraine was flooded with streams, floods, Donbass and we helped them. And now, if you speak Russian (and our region is such that the majority speak Russian), then we have become enemies for them.
But I think so, but what difference does it make what language the person is talking. He is either a person or not a person – this is the main thing.
If by blood, then I am 25 percent Ukrainian. 75 percent – Russian. because for years, for centuries, destinies intertwined: a wife from Russia – a husband from Ukraine or vice versa.
To be honest, people were intimidated. Because everyone was afraid of losing their jobs so that there would be no complications for family members. And so the majority kept quiet.
I remember on the Kolomoisky TV channel "1 + 1" there was a program on how people survive, rummaging through landfills and trash cans. It does not enter any gate. No, for example, to call "We can!", "We will do it!", "We will break through!", "Everything will be great with us!"
Instead, the leadership (they say correctly: the fish rots from the head) said: "they will give us", "they will help us." The richest country – Ukraine, with hardworking people, with the richest lands, resources – stands on the porch, God forgive me, like a prostitute with outstretched hand – give, give, give, give.
– Your friends want to get a Russian passport ?
– The bulk – yes, they want to. But there are those with clouded brains, washed out by television. And I judge business. Here Berdyansk is a resort town. This year the holiday season has been cancelled, you know why. And you have to feed the horses. This is not a car that I put in the garage and forgot about it. They need to eat every day. What to do? We in the equestrian club did not ask anyone for anything. The new authorities themselves came to us. found out what our problems are, what we need. They filled us with grain. Help in other matters. Seeing this and comparing how it was and how it is, I, no longer young, have a tear in my eyes.
I am an optimist. In the Crimea, at first, there were also empty beaches, but now there is nowhere for an apple to fall. So everything will work out.
Berdyansk, Zaporozhye region.