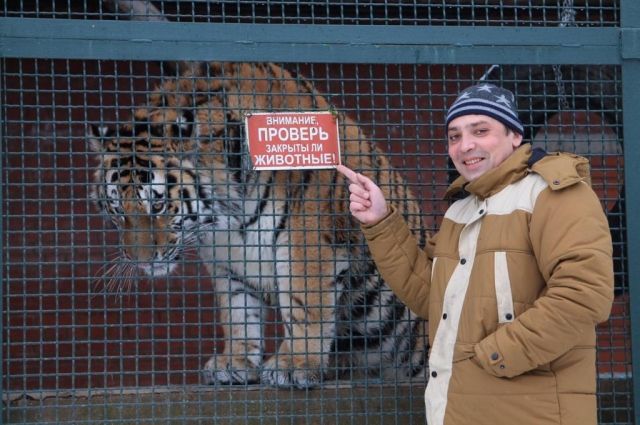 How lost polar bear cubs and animals are rescued in Donbass, how tigers' teeth are treated, and how wild animals are anesthetized. Dmitry Egorov, head veterinarian of the Moscow Zoo, spoke about this and many other things aif.ru
Nikolai and Ayana
Yulia Borta, aif .ru: — Dmitry, recently the whole country followed the rescue by your colleagues of a polar bear, whose tin can was stuck in its mouth. Did you also have similar stories?
Dmitry Egorov:— A few years ago, a bear cub was rescued in Chukotka, in a very remote village of Ryrkaypiy. Apparently, the bear died, he was left an orphan and began to indulge and terrorize the local population. The bear patrol turned to the Moscow zoo with a request to adopt the animal, because an older animal could kill him. Rosprirodnadzor gave permission, and the Ministry of Defense provided the aircraft. We flew seventeen and a half hours to Anadyr. Then we waited five days for the weather. When they finally gave the go-ahead for takeoff, another 500 km flew by the Mi-26 helicopter. We already knew that the bear cub was lured into the space under an abandoned three-entrance two-story house (the houses there are on stilts) and filled up the exits with construction debris. When we got there, the weather began to change dramatically, there was a cyclone, and the helicopter pilots warned that we had two hours if we did not want to get stuck for several days.
It was necessary to manage to shoot (with an anesthesia syringe — ed. note) so accurately and from the first time it is desirable to fly away with him that day. The teddy bear was immobilized and put in a cage. Then there was a night at the airport. He, of course, shouted, was nervous. But we managed to feed him and still take him. Now he sits with the same rescued bear in the zoo of Nizhny Novgorod. His name is Nikolai, and the bear — Ayana. They already have a couple. We are waiting for offspring.
— If the beast went out to people, then it will not return back?
— Differently. In such places, a bear patrol is actively working, which drives away polar bears, trying to return the beast to nature. Sometimes they can first immobilize and take them 300 km away. Zoo — an extreme case when it is not possible to drive away the beast, or when they understand that the animal will die in nature. Once in Yakutia, a polar bear walked 1,500 km deep into the mainland. This was the first such recorded case. Still, polar bears live near the coastline. Her return to nature was impossible. She could already do things, because she went to a densely populated area, as far as one can say about Yakutia. Now the bear is in the Moscow Zoo. She was given the nickname Tompa, after the name of the Tomponsky district where she was found. height="600″ width="450″ ​​style="display: block;" />
Photo: Personal archive
Hunt test
— Do you have to save animals that have suffered from human hands? Can they be accepted into the zoo?
— Save the animal and attach it somewhere — it's still half the battle. With this help, there are no problems. But we cannot accept an animal from the street… For example, an owlet. What if he gets the bird flu? We will endanger the entire unique collection of birds.
In addition, we still save animals that are very valuable in terms of the rarity of the species and which are seized legally. If the animal is injured, then Rosprirodnadzor sends it to a specialized center. For example, a tiger, a leopard or a bear is immobilized, examined by doctors, then treated and fattened. Next is the test for hunting — whether the animal can catch the prey. If he fails this test, or has health problems, then a decision is made not to release him into the wild. It happens that a leopard lacks phalanxes of fingers (due to falling into a trap), such an animal will not hold its prey and will die of hunger. He just won't get his own food. Next, Rosprirodnadzor determines which zoo this or that animal will go to. First of all, they look to see if there are conditions for its maintenance. If the zoo cannot provide care for a leopard or a polar bear, food on a sufficient area, no one will give the animal to him. No matter how much he wants.
— I know that you went to Donbass to help at the local zoo.
— We went with the deputy director of the Moscow Zoo Alexey Yuryevich Suslovas part of assistance to zoos in Donbass and Ukraine. The zoo is private, located about an hour's drive from Donetsk. Examined the animals, brought medicines, feed. Of course, everyone gets there now — both people and animals. Animals do not suffer less from shelling. Then the director of our branch — zoo in the estate of Father Frost Veliky Ustyug — visited the Dokuchaev Zoo in the DPR. Now humanitarian cargo is regularly sent there. We were the first signs.
—Are there difficulties in providing animals with medicines and vaccines at the Moscow Zoo itself due to sanctions?
— We have made a strategic reserve. In addition, you can always find analogues of drugs that have become scarce. There are difficulties, but I can't say that they are insurmountable.
— Beasts that can be cured can feel gratitude?
— Yes, it happens even in wild animals. Of course, they will not show excessive affection, like a domestic cat or dog. But, perhaps, they won't run away, as before, when you pass by, they won't growl strongly. Sometimes love is expressed in the fact that the animal ignores you, but before it could throw. This is also a kind of loyalty.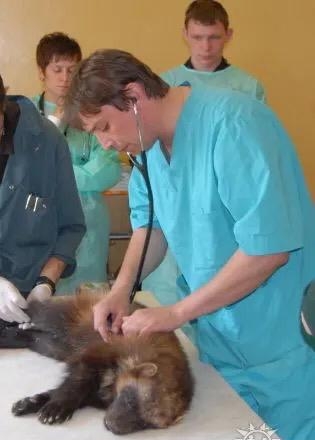 Photo: Personal archive
A dentist for a tiger, a cardiologist for an owl
—How much more difficult is it to treat wild animals?
— Much harder than at home. Of course, in both cases we have — silent patient. But if a pet can be fixed and an ultrasound, X-ray, and blood can be taken, then the Amur tiger weighing 180 kg has to undergo general anesthesia for the same procedure. We solve a kind of crossword puzzle when, for one reason or another (if anesthesia is not given), we try to find a treatment. Our big helpers — zoologists and keepers who are assigned to certain animals. And when they say that someone's eyes are sad, or, say, the tiger is not in its usual place, refuses its favorite chicken, for us this is a reason to run and watch.
Medical trainings are very promising, when animals are accustomed to certain manipulations. For example, the same polar bear can learn to stick its paw into a special structure so that we can take an x-ray, take blood, or open its mouth so that we can examine the teeth. This is done using clickers, which are used in animal training.
— Veterinarians also need to be able to shoot accurately.
— Often, remote administration of drugs is used. Flying syringes of a special modification are filled with an antibiotic, anesthetic (narcosis) or vitamins. There are many delivery systems — from modified blowguns to double-barreled shotguns with telescopic sights.
—Can you remember the most unusual operation?
— The zoo has a lot of dental patients, including those from the wild. The tigers had pins in their teeth. More than one leopard, polar bear, harza (large marten — Ed.), wolverine have been cured of caries.
By the way, why do zoo animals live a long life? Because there is care, nutrition and medical care. We have a fossa (vaguely reminiscent of a cat – Ed.), who underwent surgery at 23 years old. Moreover, in captivity they usually live 16-18 years. Of course, the animal is in extreme old age, blind, has hearing problems. But we do not leave anyone to the mercy of fate. They decided, since he eats well, does not feel pain (and the doctor sees such things), to prolong the life of the old man. The skin tumor was successfully removed. Now he is 24.5 years old. He wanders around the enclosure and is not going to die.
—Do animals also have tumors?
— Yes, they get sick all over, almost like people do. There was a case — cured the father of three snowy owl chicks from a stroke. An owl stroke looks something like a human — the eyes are closed, there is torticollis, uncoordinated movements. For diagnosis, the fundus of the eye also looks. They gave the father of the family medicines to improve the functioning of blood vessels, and he recovered.
It happens that during the rut, males in the heat of the moment can injure the female. Uncommon, but unfortunately it happens. This happens in nature too. So, after the "marriage games", one female ram had to amputate a leg. And the second — build up bone throughout the year. The females are mature. On them, probably, it would be possible to put a cross. But they brought more cubs in a year than young ones who did not have health problems. One is single-legged, disabled, the second with an almost artificial leg. Here, please, is proof that one must always fight for life.
Thai Monkey Festival
© Reuters
© Reuters
© Reuters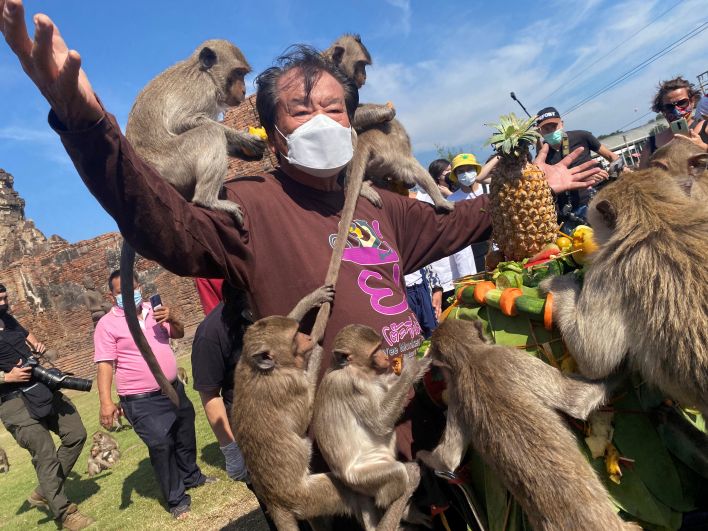 © Reuters
© Reuters
© Reuters
© Reuters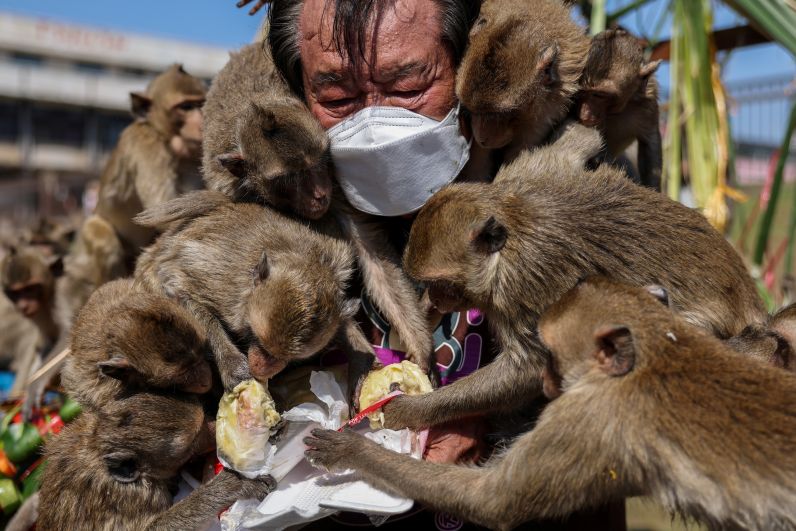 © Reuters
© Reuters
© Reuters
Thailand Monkey Festival
© Reuters
© Reuters
© Reuters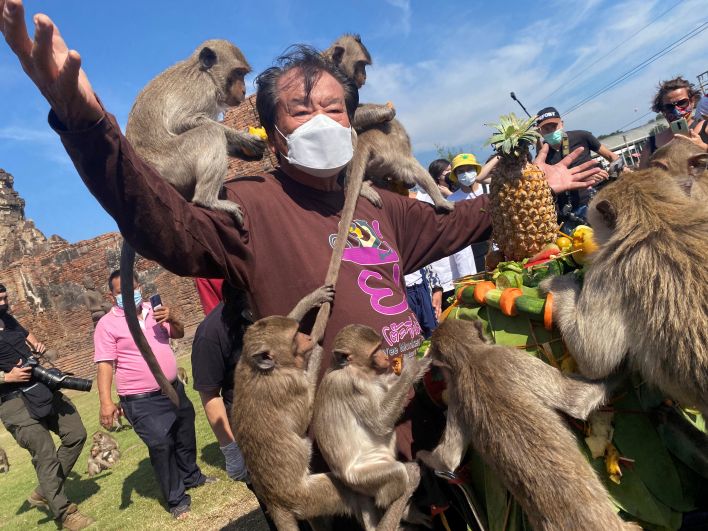 © Reuters
© Reuters
© Reuters
© Reuters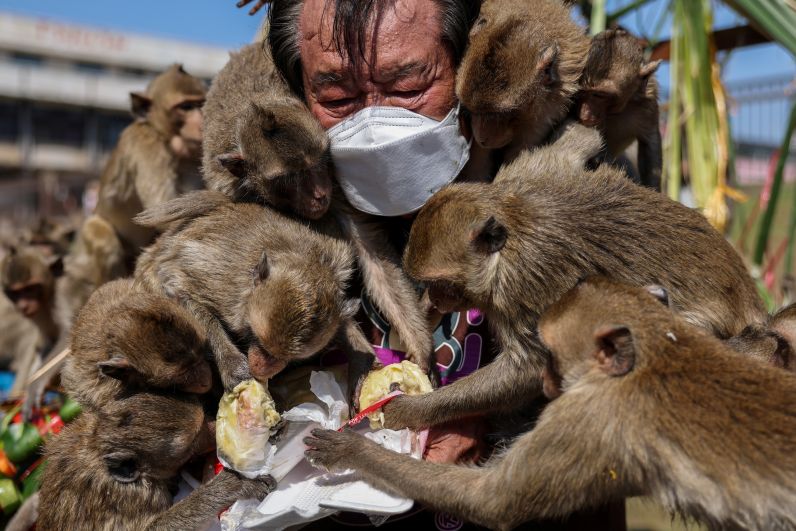 © Reuters
© Reuters
© Reuters
Dangerous selfie with a monkey
—Do animals get stressed too?
— Stress — phenomenon is purely individual. A young tigress, who was preparing to be released into the wild, came to us from the Primorsky Territory for rehabilitation and treatment. But when she was immobilized and examined, it turned out that she had a serious problem with her teeth and necrosis of the lower jaw. She will not be able to keep the prey and will die. The animal has been with us for almost two weeks and still cannot get used to it, it is under severe stress.
And recently we took a cougar rescued from a traveling circus in Volgograd. Rosprirodnadzor decided to send it to our branch in Veliky Ustyug. The animal sat in a charity shelter along with cubs, monkeys and dogs, in a small enclosure. It is clear that where there was a place, they sheltered there. She was fed and nursed — many thanks to these people. We took her 1,600 km to the north. Released into a cage. They thought she'd be under a lot of stress after all she'd been through. But she went out and, as if nothing had happened, examined the enclosure, chose a place for herself, ate wonderfully.
Although in my practice, probably, cats are more prone to stress, because they are the most pampered. After transportation, they may not be suitable for food for 3-4 days. And no matter what — small cats in the form of a manul or a feline like the Amur tiger.
— What advice would you give to zoo visitors?
— They are banal. When you visit the zoo, please do not feed the animals. They have a wonderful, specially selected diet. Some animals are on a special therapeutic diet. By treating the wrong person with a tangerine, marshmallow or chocolate bar, you can lead the animal to death. There have been such cases. Sometimes things are thrown into the cage to watch the animals play. And the doctors then have to get it out of them during the operation.
In the safety instructions for employees, it is not for nothing that the phrase always comes first: «Zoo — high-risk enterprise. It is clear that we and the visitors are on opposite sides of the barricades. But it's better not to put a child in an aviary, not to take selfies with monkeys. Well, if this ends with the fact that the monkey takes the phone. And if together with the phone — knuckles, it will be much less fun. Sometimes you don't know what to expect from a domestic cat, dog or even a hamster. And then there are wild animals that are on their territory.
Top 10 Most Dangerous Animals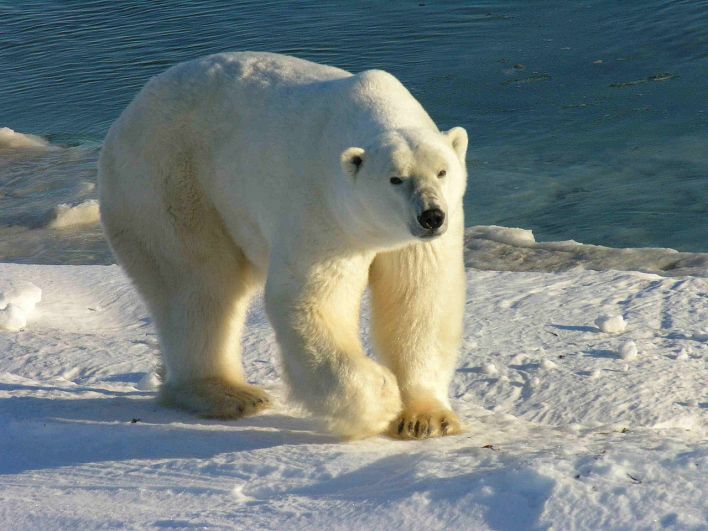 Polar bear. Today, eight species of bears are known to the world, and their habitats are Asia, South and North America, and Europe. The most terrible representatives, having impressive body sizes and ferocious habits, are brown and polar bears. Most bears are considered omnivores, but there is an exception – the polar bear. This carnivore, eating only animals, is not afraid of humans and has no enemies. A polar bear can reach speeds of about 60 km/h © Commons.wikimedia.org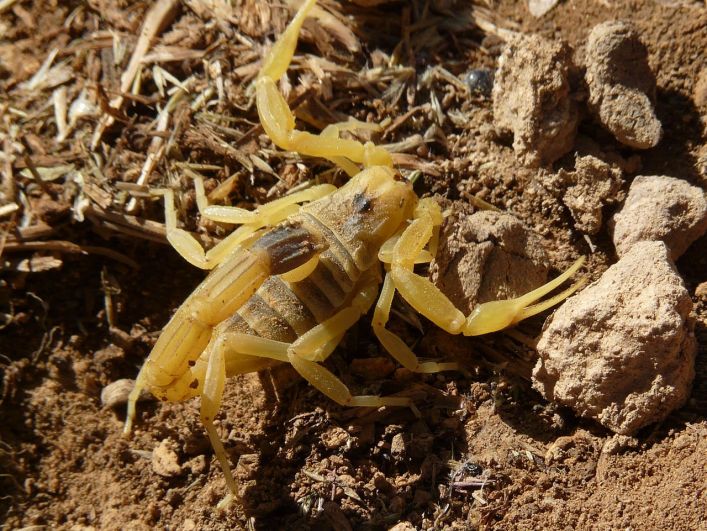 Scorpion Leyurus is small in size, lives in Africa and the Middle East, and when he bites, the victim will experience severe pain, paralysis and death © Commons.wikimedia.org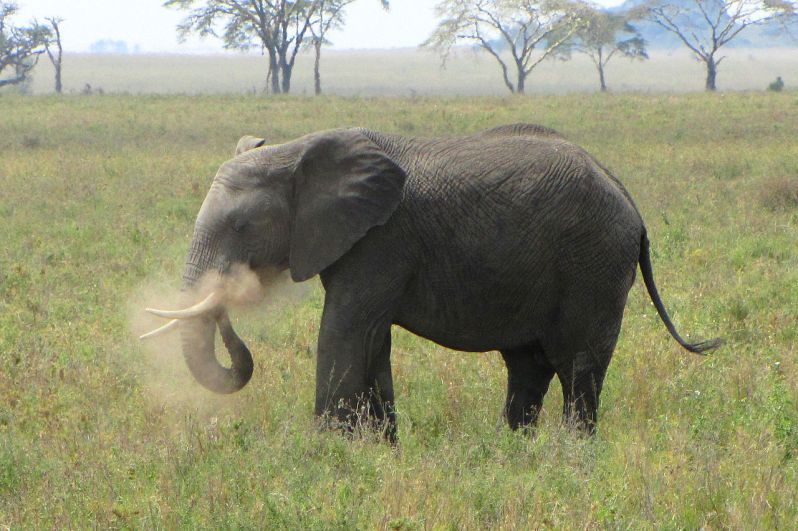 African elephant. The elephant has excellent hearing and sense of smell, and is most dangerous during the mating season, as testosterone levels increase 60 times. Elephants kill between 500 and 600 people every year. When attacked, an elephant defends itself or its family. This giant can mistake a person for danger if he approaches too quickly or, for example, gets between the cub and mother © Commons.wikimedia.org
Crocodile. They live on all continents except Europe and Antarctica. In total there are 23 species of these animals. The most dangerous are the Nile and saltwater crocodiles. This amphibian feeds on everything that moves in the water. However, the habitat of the Nile crocodile is too closely adjacent to inhabited areas, so the predator regards humans as prey © Commons.wikimedia.org
A lion. This predator is the only one that needs a team to hunt, but to drive a prey larger in size is not a problem! It rushes at a speed of 50 km/h, despite an impressive weight of 150-250 kg and is able to jump over the fence, holding prey in powerful fangs © pixabay.com
< img src="https://aif-s3.aif.ru/images/025/352/8d2ec486735d6c31e5795f3df6d9bda1.jpg" height="531" width="763" style="display: block;" />
Great white shark. In the open spaces of the sea, you cannot find a more terrible predator that lives in all open waters of our planet, with the exception of the Arctic Ocean. At risk are careless swimmers, surfers, divers and shipwrecks in the open ocean. The great white shark is one of the ten largest sharks in the world. Its length is 4.6-4.8 meters, but there are individuals that reach 6 meters in size © Commons.wikimedia.org
Rhinoceros have excellent hearing and sense of smell. A three-ton male black rhinoceros sees nothing already at a distance of 7 meters. But it has a long and sharp horn. He is ready to use this deadly weapon against any opponent that gets in his way © Commons.wikimedia.org
African buffalo. When talking about the black buffalo as one of the most dangerous animals, it means huge strength and sharp horns, with which it can attack and kill other animals in a few seconds. Even formidable lions are afraid to approach them and even more so to attack them. The size of the African buffalo exceeds the size of the human body by 4-5 times © Commons.wikimedia.org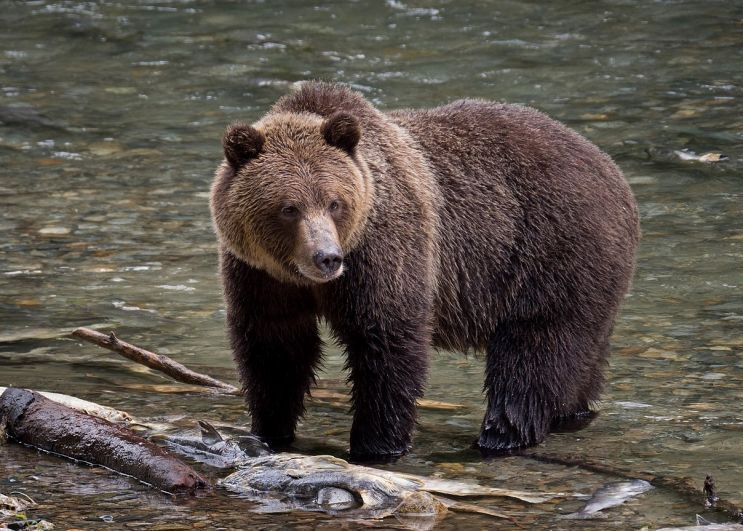 The grizzly bear is a subspecies of the brown bear (Ursus arctos) found primarily in Alaska and western Canada. Usually grizzly bears avoid meeting with a person, but if contact has occurred, then it carries a great danger to humans. Grizzly bears are especially dangerous if they are disturbed while eating or while a female with offspring is nearby © Commons.wikimedia.org
Hippopotamus. Despite the fact that the hippopotamus is considered a herbivore, on occasion it adds an antelope or even a crocodile to its menu. Cases of attacks on people are quite frequent, on account of hippos annually up to 3000 human victims. The animal is especially dangerous in the water, where it easily capsizes boats © Commons.wikimedia.org
10 Most Dangerous Animals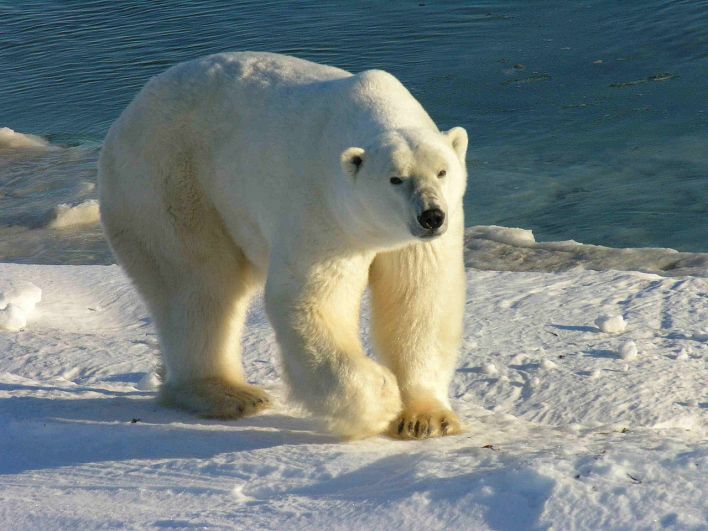 Polar bear. Today, eight species of bears are known to the world, and their habitats are Asia, South and North America, and Europe. The most terrible representatives, having impressive body sizes and ferocious habits, are brown and polar bears. Most bears are considered omnivores, but there is an exception – the polar bear. This carnivore, eating only animals, is not afraid of humans and has no enemies. The polar bear is capable of speeds of the order of 60 km/h " width="707″ style="display: block;" />
Scorpion Leyurus is small in size, lives in Africa and the Middle East, and when he bites, the victim will experience severe pain, paralysis and death © Commons.wikimedia.org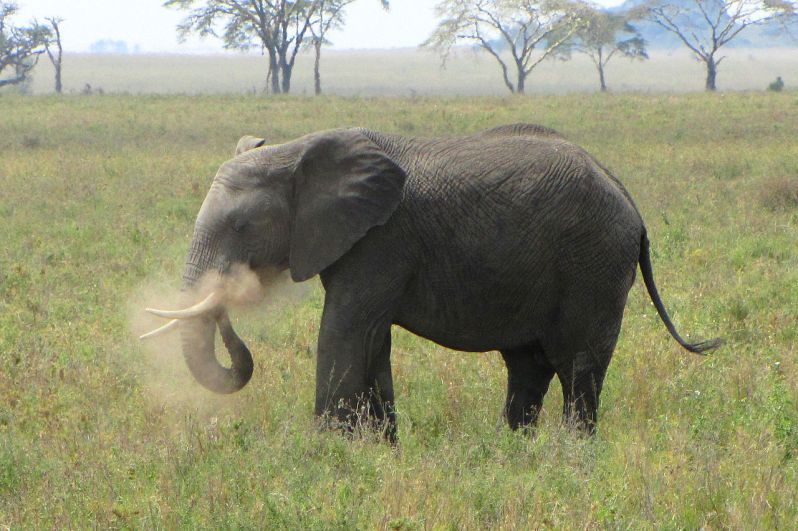 African elephant. The elephant has excellent hearing and sense of smell, and is most dangerous during the mating season, as testosterone levels increase 60 times. Elephants kill between 500 and 600 people every year. When attacked, an elephant defends itself or its family. This giant can mistake a person for danger if he approaches too quickly or, for example, gets between the cub and mother © Commons.wikimedia.org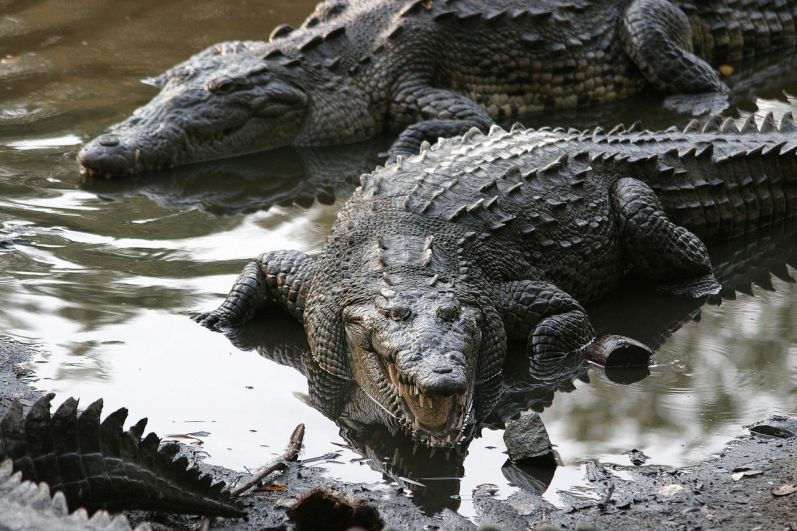 Crocodile. They live on all continents except Europe and Antarctica. In total there are 23 species of these animals. The most dangerous are the Nile and saltwater crocodiles. This amphibian feeds on everything that moves in the water. However, the habitat of the Nile crocodile is too close to inhabited areas, so the predator regards humans as prey © Commons.wikimedia.org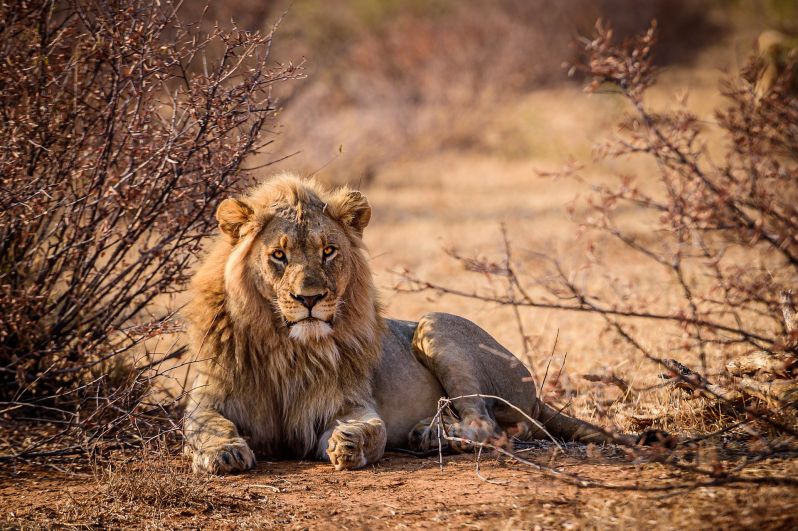 Lev. This predator is the only one that needs a team to hunt, but to drive a prey larger in size is not a problem! It rushes at a speed of 50 km/h, despite an impressive weight of 150-250 kg and is able to jump over the fence, holding prey in powerful fangs © pixabay.com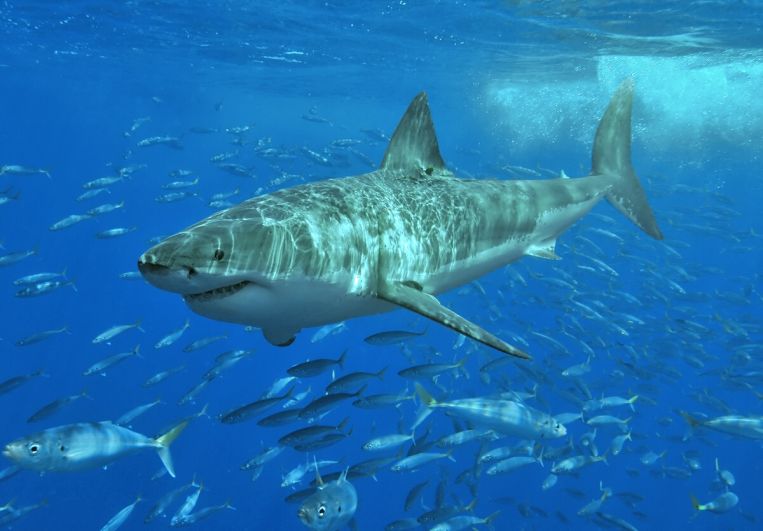 Great white shark. In the open spaces of the sea, you cannot find a more terrible predator that lives in all open waters of our planet, with the exception of the Arctic Ocean. At risk are careless swimmers, surfers, divers and shipwrecks in the open ocean. The great white shark is one of the ten largest sharks in the world. Its length is 4.6-4.8 meters, but there are individuals that reach 6 meters in size © Commons.wikimedia.org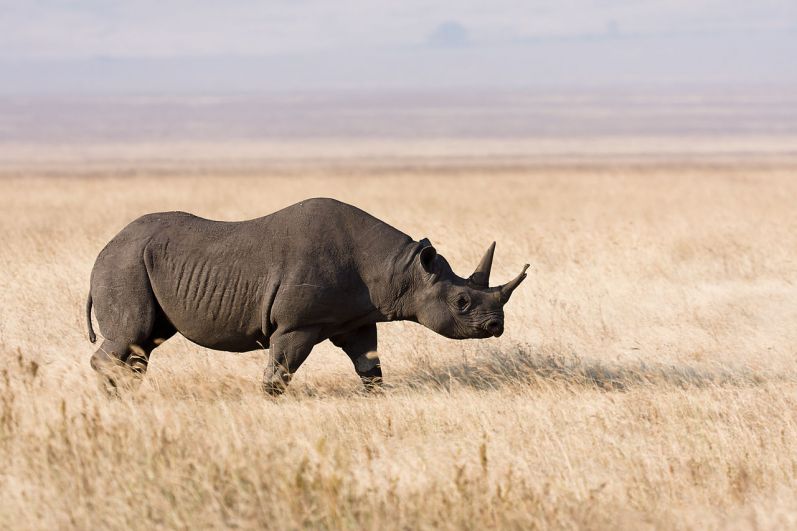 Rhino has excellent hearing and sense of smell. A three-ton male black rhinoceros sees nothing already at a distance of 7 meters. But it has a long and sharp horn. He is ready to use this deadly weapon against any opponent that gets in his way © Commons.wikimedia.org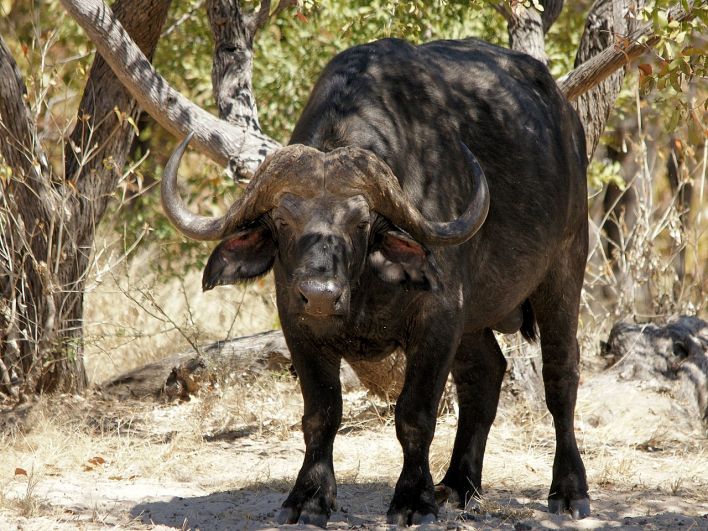 African buffalo. When talking about the black buffalo as one of the most dangerous animals, it means huge strength and sharp horns, with which it can attack and kill other animals in a few seconds. Even formidable lions are afraid to approach them and even more so to attack them. The size of the African buffalo exceeds the size of the human body by 4-5 times © Commons.wikimedia.org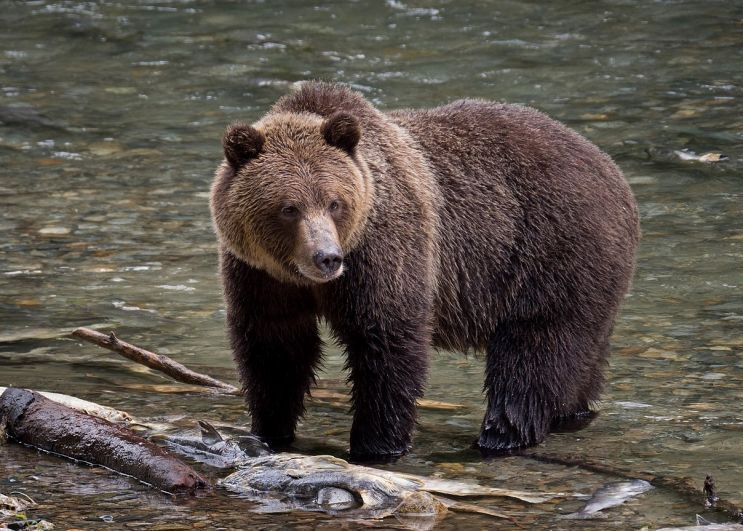 The grizzly bear is a subspecies of the brown bear (Ursus arctos), found primarily in Alaska and western Canada. Usually grizzly bears avoid meeting with a person, but if contact has occurred, then it carries a great danger to humans. Grizzly bears are especially dangerous if they are disturbed while eating or when a female with offspring is nearby. © Commons.wikimedia.org
Behemoth. Despite the fact that the hippopotamus is considered a herbivore, on occasion it adds an antelope or even a crocodile to its menu. Cases of attacks on people are quite frequent, on account of hippos annually up to 3000 human victims. The animal is especially dangerous in the water, where it easily overturns boats © Commons.wikimedia.org
Rate the material