An emergency meeting of the CSTO was held on September 13 at the initiative of the Armenian side. The Council proposed to send the Secretary General of the organization to the Armenian-Azerbaijani border and create a working group to analyze the situation " media="(max-width: 320px) and (-webkit-min-device-pixel-ratio: 2), (max-width: 320px) and (min-resolution: 192dpi)" >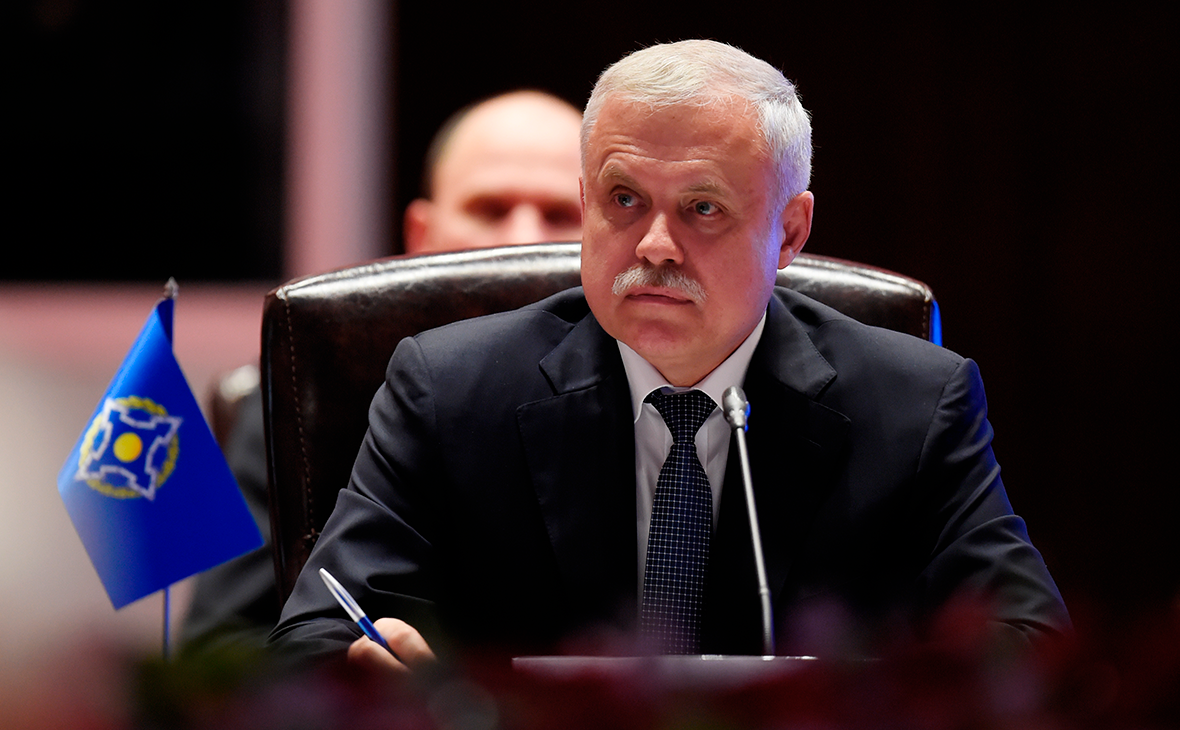 < /p> Stanislav Zas
The CSTO Collective Security Council at an extraordinary meeting discussed the situation on the Armenian-Azerbaijani border and proposed to send the Secretary General of the organization Stanislav Zas to the border, as well as create a working group to analyze the situation, BelTA reports.
"Steps have been proposed that seem possible to take in an expeditious manner. Among them, the departure of the CSTO Secretary General to the conflict zone to prepare a detailed report to the heads of state and the creation of a working group from among the staff of the secretariat and the CSTO joint headquarters to analyze the situation and develop proposals, — the Belarusian agency says.
An emergency meeting of the CSTO was held earlier on September 13 at the initiative of the Armenian side (the organization includes Russia, Armenia, Belarus, Kazakhstan, Kyrgyzstan and Tajikistan). Council members expressed extreme concern over the current situation and considered proposals regarding the possible use of CSTO mechanisms to resolve the situation, the press service of the organization reported.
The border conflict between Armenia and Azerbaijan escalated on the night of September 12-13. Positions near the border Armenian cities of Sotk, Vardenis, Goris, Kapan, Artanish, Ishkhanasar and Jermuk in the southeastern part of the republic came under fire, the Armenian Defense Ministry reported. At least 49 people were killed as a result of the skirmish from Armenia, Prime Minister Nikol Pashinyan said.
The Azerbaijani side claimed that the Armenian military mined the supply lines of the Azerbaijani army at night, fired at several positions of the Azerbaijani army from various weapons, including mortars, killing people and damaging military infrastructure.
Read on RBC Pro Pro Hard time: why companies are tired of "soft" skills Articles Pro Both a mentor and a dictator: how to effectively combine different leadership styles how to recognize it Instructions Pro In IT, you can have a high salary in your first position. Who to study for Instructions Pro You opened an account abroad and use it. Why You Can Be Fined Instructions Pro Why the U.S. is Losing the Digital Currency Race to China and Turkey Can he provoke a global crisis Articles
The same night, Pashinyan spoke on the phone with Russian President Vladimir Putin and turned to the CSTO. With the mediation of Russia, the parties to the conflict agreed to cease fire from 9:00 Moscow time, the Russian Foreign Ministry reported.
In turn, Azerbaijani President Ilham Aliyev held an operational meeting with the leadership of the Azerbaijani Armed Forces and blamed Armenia for the aggravation of the conflict.
p> Authors Tags Subscribe to Telegram RBC Stay up to date with the latest news even in conditions of blocking