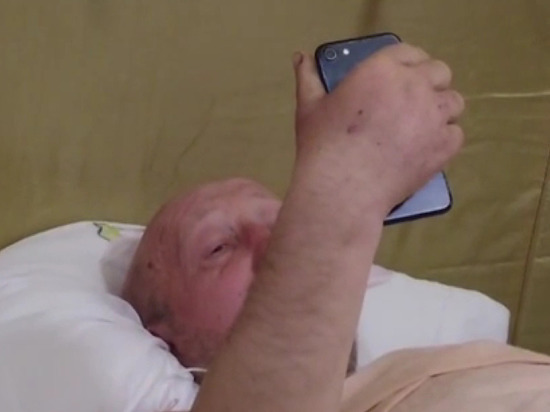 rescued officer calls his 15-year-old son. Video frame. source: Ministry of Defense of the Russian Federation
The Ministry of Defense of the Russian Federation published footage of the rescue of a seriously wounded officer of the Armed Forces of Ukraine by Russian paratroopers. Senior Lieutenant Igor Olenchuk was found on April 20 as a result of reconnaissance and search operations carried out by units of the Russian Airborne Forces.
The right leg of the Ukrainian military was injured. As it turned out, Olenchuk was wounded on April 16, but his colleagues abandoned him. The officer developed gangrene.
He was taken by helicopter to the medical unit with a diagnosis of "traumatic amputation of the right leg" and a complex operation was performed there.
"Despite the fact that he represented the opposing side, we we try to treat everyone who comes to us humanely," said the commander of the medical detachment of the Airborne Forces.
Now Olenchuk is safe. He has already called his 15-year-old son and said that he was all right. The teenager was crying with emotion and joy that his father was alive.
Olenchuk said that after being wounded, he shouted to his colleagues, asking to be taken away. "But all those who were nearby, they just fled, I was left alone," the starley said.
Olenchuk "crawled through the landings" for three days until the Russian army found him.
< p>"Thank you very much to the doctors," said the Ukrainian military man. "To be honest, I was sure that they would mock me, beat me." But I saw "an unexpectedly good attitude."