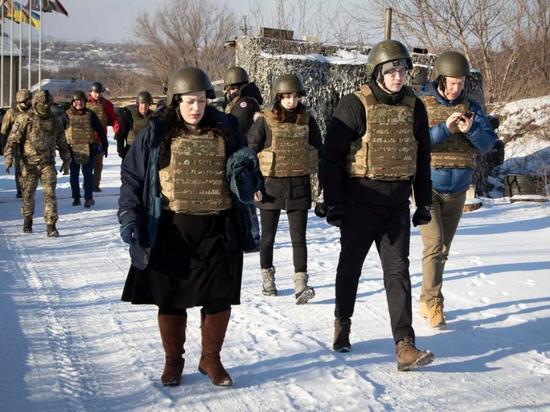 Photo: Facebook of the Press Service of the United Forces
As reported by the press center of the headquarters of the Ukrainian Joint Forces, on January 20, they arrived in Donbass members of the Foreign Affairs Committee of the British Parliament. Armed Forces General Anatoly Shevchenko briefed the foreign guests on the current security situation in the JFO area. Also, the international delegation visited the positions of the Armed Forces of Ukraine and talked with Ukrainian soldiers.
As specified on the Facebook page of the headquarters of the Ukrainian joint forces, the British parliamentarians were shown the consequences of Russia's armed aggression: they destroyed the houses of civilians and destroyed civilian infrastructure in the city of Avdiivka .
Let us recall that the hostilities in the territory of the Donetsk and Luhansk regions of Ukraine, which began in April 2014. During that period and O. President of Ukraine Oleksandr Turchynov, in connection with the seizure of administrative buildings in Kharkiv, Donetsk and Lugansk, announced the creation of an anti-crisis headquarters and that "anti-terrorist measures will be carried out against those who took up arms." On April 14, the text of Decree No. 405/2014 on the start of the anti-terrorist operation was posted on the website of the President of Ukraine.