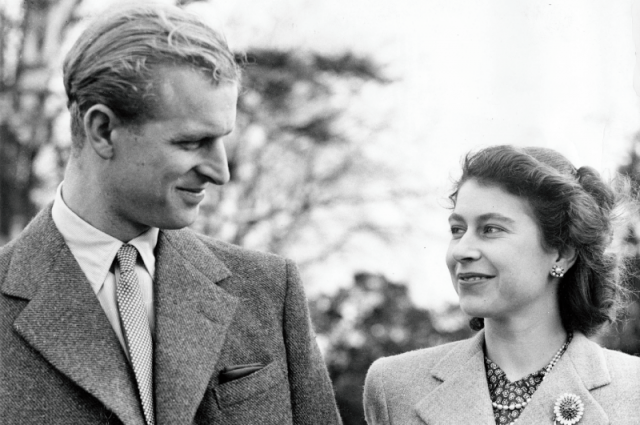 They lived together for 73 years, 4 months and 20 days. And died with a a a a year and five months difference. They — they are Queen Elizabeth II and Prince Philip. Aif.ru recalls a bright, touching, rich in events and emotions love story. The world's longest monarch.
"To be spared in war and to see victory, to be able to rest and rebuild, to fall in love unconditionally — after that, personal and even world problems look small and unworthy of attention. I'm afraid I can not be able to express all this in the right words, and I certainly am unable to convey my thanks to you. Lilibet, you the only thing in this world that is absolutely real for me — Prince Philip wrote to his beloved Princess Elizabeth in 1945.
The charm of a blue-eyed blond
By that time, they had known each other for 11 years. The first meeting of the prince and the princess happened at the wedding of the cousin of Prince Philip — Princess Marina of Greece and Duke of Kent, who was the uncle of Princess Elizabeth. It was in 1934 in Westminster Abbey. But to pay close attention to the 13-year-old fourth cousin of eight-year-old Lilibet was unaware. Three years later, Philip and Elizabeth saw each other at the coronation of her father —George VI. But and then nobody could have imagined that someday they would get married and will live long and happily
The spark between the young people ran later, when George VI together with wife Elizabeth Bowes-Lyonand daughters — Princesses Elizabeth and Margaret — attended the Royal Naval College, where Philip studied. With charm and jokes, an 18-year-old well-built blue-eyed blond instantly fell in love with a 13-year-old Lilibet. The girl immediately understood: here is her future husband. Philip realized that she — his fate, not immediately.
Young people began to correspond. On the nightstand by Lilibet's bed now stood a portrait of Philip. On vacation from service during World War II, he came to London. Celebrated Christmas with the Royal Family at Windsor Castle in 1943. Everything seemed to be going to the wedding. However, George VI did not approve of his daughter's choice. Philip came from a family that was deposed and fled from his native Greece, his parents divorced, his mother ended up in a psychiatric clinic. He didn't have any money. Yes 's manners did not really correspond to the court of monarchs.
"A flash of color on the gray path"
The king and queen were horrified. They considered Philip unworthy of the hand and heart of their daughter. However, Elizabeth stood her ground. She did not see anyone else in the place of her future husband. And the year, during while relaxing in Balmoral Castle in Scotland, Philip, getting down on one knee, proposed to the princess. "I think" — Lilibet didn't said…
George VI had to come to terms with her choice. 10 July 1947, the engagement of Prince Philip and Princess Elizabeth took place. Four months later, on November 20, the lovers got married. He was 26 years old, she — 21.
Shortly before the wedding, the king gave the future son-in-law the title of Duke of Edinburgh, Earl of Merioneth and Baron Greenwich. Having accepted British citizenship, from the former titles of "Prince of Greece" and "Prince of Denmark" Philip refused. In addition, he took his mother's surname, rewritten in English manner — Mountbatten. Moved from Orthodoxy to Anglicanism. And a few years later, when her beloved became queen after the sudden death of her father, he was forced to leave his military career.
Photo: www.globallookpress.com
The celebration itself was modest by royal standards. Only 2 thousands of invitees! Elizabeth bought the fabric for the dress herself on cards (the government allocated her additional, in honor of the solemn occasion), according to which post-war Britain still lived.
However, the royal wedding ceremony was broadcast on radio and television for the first time. And more than 2 million people gathered on the streets of London. Postcards with photographs of the newlyweds were specially issued.
However, the most interesting in "wedding of the century" there were not dresses, decorations, and a four-tiered cake 3 meters high, but Elizabeth the traditional promise to obey her husband, which she insisted on herself. And surprised everyone.
Winston Churchill called the wedding of the prince and princess "a flash of color on the common gray path".
< h2>Queen's Shadow
From their side life of course seemed a fairy tale in which every day — like a wedding. Yes and how could it be otherwise for royals?! However, in the life of Elizabeth II and Duke Philip, as in many simple families, there were problems and grief. After all, they raised four children. Elizabeth left the two older ones in London when she left for Malta to her husband who served there. But little kids — little troubles…
Suffice it to recall the scandals around Prince Charles related to his extramarital affairs, divorce from Princess Diana, her death, the new marriage of the Queen's eldest son… Like any mother, she was certainly worried about he. It's a gift that he has already been a father twice.
Princess Anne and Prince Andrew could not live long and happily in the same marriage. Not rumors went around the queen and husband. Especially in the first half of their life together. All sorts of intrigues, novels, relationships with actresses, journalists, ballerinas were attributed to the Duke … Not a single fact was confirmed. And Philip himself, somehow unable to stand it, answered the journalist's tricky question: "Didn't it occur to you that all these years I didn't go anywhere without a police escort? Damn it, how would I have gotten away with such a trick?!»
" height="531″ width="800″ style="display: block;" />
Photo: www.globallookpress.com/Kurt Rohwedder
70 for years, from 1951 to 2021 year, Prince Philip's destiny was always to be close to the Queen. That that is, half a step behind. He was her main support, support, true friend, reliable shoulder, stone wall… And shadow. Yes, the queen's shadow, without which she simply could not live.
"To be honest, I"d rather stay in the navy, — once confessed the duke. — But there was no choice . It happened. Sometimes life forces you to make compromises. And the main thing for me — never fail the queen»…
Rate the material