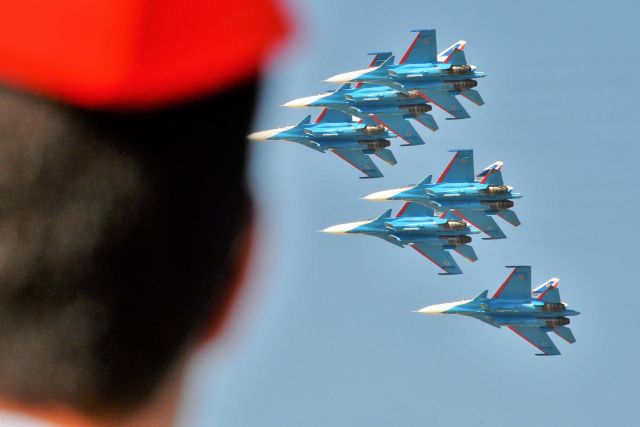 The 17th Dubai Airshow-2021 International Aerospace Exhibition has ended in the UAE. The pandemic, due to which many international exhibitions in 2020-2021 were canceled or transferred to the online format, has not disappeared anywhere, but it has not become the reason for the cancellation of the air show. I will share some of my thoughts on her & ndash; I believe that I have the right to do so, having worked at dozens of similar exhibitions for 40 years.
At the airport 40 km from Dubai, pavilions of the participating countries with samples of military products were deployed, military and civil aircraft, helicopters and drones for various purposes were parked nearby.
But for those who could not get to the exhibition, it was not easy to get information about what actually happened in the UAE, focusing only on the official media. This is not about covering Russian participation. It was just here that there was an abundance of information. True, basically everything was repeated that had already been said several times three months ago at MAKS. Correspondents of the Russian media, of whom more than a dozen flew in, relayed homemade preparations from Dubai with adjectives of an exceptionally superlative degree, more reminiscent of advertising messages. Our aircraft presented at the show was 'the latest', 'the most unique', 'innovative', 'high-tech', 'superior to all foreign counterparts.'
Let's not argue with that. The question is: was the salon exclusively Russian? Weren't other countries presented at it with samples of their aircraft, which today constitute a serious competitor to our products?
And what can the employees of our military-industrial complex, who, in view of their special status, are not supposed to cross the borders, gain from this information useful? The very developers who should be aware of all the changes and nuances that the world arms market abounds in. After all, they should not receive advertising, but verified technical information about competing Western developments and, on its basis, create our military equipment, " superior to foreign counterparts. '' And to receive this information precisely today, when many enterprises of the Russian defense industry are under sanctions, and leading Western information and analytical centers and publications refuse Russians to subscribe to their products.
Dubai Airshow is not the world's largest air show. Number 1 rightfully belongs to the aerospace exhibition in Le Bourget. In the days of the USSR, the work of the Soviet delegation formed by the Ministry of Aviation Industry there was built on a fundamental basis. A few months before the start of Le Bourget's work in Moscow, information about what would be presented in France was collected, systematized and analyzed from open sources. The delegation formed groups of the most authoritative specialists in their fields, and a preliminary analytical report was communicated to everyone. There were up to 10 such groups, and they were tasked with collecting information in such areas as aerodynamics and aircraft design, combat aircraft, civil aircraft, aircraft engines, avionics, aircraft materials, aircraft weapons, etc. The result of the work of the delegation was not only the reports of each of the groups, but also tens of kilograms of collected information materials, which were delivered to Moscow and on their basis the main analytical report was made, on which the most important decisions were made. They concerned the determination of the effectiveness of certain aerodynamic configurations of foreign aircraft, their comparison with our aircraft and helicopters, the selection of the most effective aviation weapons, etc. In other words, the work of the delegation at the salon was focused not on PR and advertising, but on information support for the work of the domestic defense industry. & Nbsp;
If we take into account the recent " dock '' times, the activities of numerous press chalets of Western companies were scheduled by the hour. On business days, briefings were held there daily, which could be attended by all accredited journalists, filmed, asked any questions and received electronic presentations on those aircraft that are being promoted to the world market. Unfortunately, I rarely met journalists from Russia at these briefings. Their main task was not to miss another VIP person from the Russian delegation and to transmit information to Moscow that could be voiced at home.
The whole comic (or maybe tragedy) of organizing information support for showing our aircraft industry at foreign exhibitions is that we cover our activities for ourselves. By and large, nobody in the world is interested in it, since it is purely advertising in nature. Serious Western publications, whose publications instantly become known all over the world and which influence decision-making on the world arms market, pay little attention to information of this kind. Therefore, when another blogger or tick-toker, included in the delegation of a Russian company, informs his many young and poorly educated subscribers from a foreign salon, this will not have any effect on the information support of Russian exports of military products.
Today, at foreign aerospace exhibitions, Russia is represented by many " effective managers '', translators and relay journalists, whose task is to transmit to Moscow previously agreed statements and messages about the successful work of the Russian delegation. You will hardly find technical specialists. And what kind of specialists can we talk about? Annually, out of 100% of the graduates of the M. Bauman only 30% get a job in his specialty. The situation is similar in the Moscow Aviation Institute and other leading specialized universities in the country. But wherever you look, there are PR and marketing specialists everywhere.
Although this is also art. So to build an advertising campaign for the Checkmate fighter, that the plane is not yet, and one can only guess when it will be, but it is nevertheless presented as " superior to all known world analogues. '' And for him, as we are assured, a line of foreign buyers has already lined up. & Nbsp;