Citizens were warned against food on board, since there is no toilet in such "saloons"
Three military transport aircraft landed at the Chkalovsky airport, which brought Russian citizens from Kazakhstan … At one of them, MK foreign projects manager Gulnara Minkova returned home.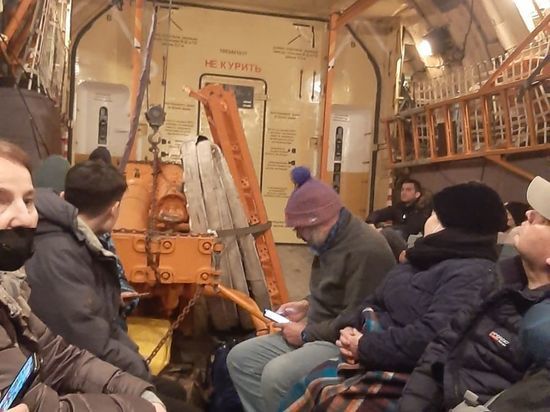 Russians on board a military transport aircraft. Everyone was happy to be evacuated from Kazakhstan. Photo: Gulnara Minkova
Gulnara and her husband have been in Almaty since January 4. After the New Year holidays, they went to Kazakhstan to go skiing at the Chambulak resort. But already on January 5, their vacation turned into a forced seclusion. They spent four days in an apartment rented on the outskirts of Almaty – without contact with relatives, without information about what was happening around.
The family had return tickets for January 9th. But by this time, civilian planes were no longer flying, and the destroyed airport of Alma-Ata announced the termination of work. Gulnara and her husband learned that everyone would be sent to Russia by military transport planes at the Russian consulate. Which was actually closed and did not work to receive citizens, but those who knocked on the door were advised to urgently go to the airport.
Quickly packing up our things, our colleagues headed to the air harbor. At the entrance, there really was an impressive line of Russians. They were allowed inside only with Russian passports. Half an hour later, Gulnara was in the departure hall, where she checked in. According to her, Russian peacekeepers were guarded inside the airport. Therefore, the atmosphere in the hall was calm. All were supplied with water and buns.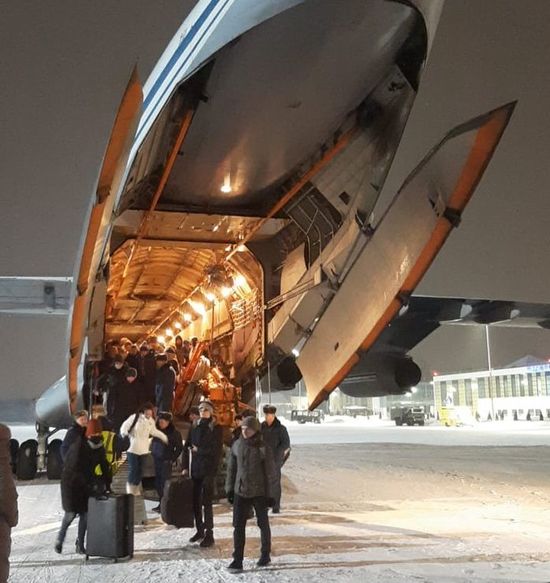 Landing in Chkalovskoye of Russians evacuated from Alma-Ata. Photo: Gulnara Minkova
About an hour later they were taken to the landing – in IL-76. The plane was taken in groups of 25 people. We sat on the benches, along with suitcases. "We sat plump. In total, 100 people flew in on our board. Moreover, this was the last export flight for today, – said Gulnara. – We made it in time.
They didn't feed me on the plane. And they asked not to use anything especially from their reserves. Since there is no toilet, and the flight is five hours. They said that if someone wants to, then of course there is a bucket. "
Most of the same vacationers like Gulnara and her husband Vsevolod returned to Moscow. Someone was going to ski, one young man flew to a wedding to his family. And the girl, who arrived in Alma-Ata on January 5 at the height of the pogroms, had to spend about 15 hours on the plane. Passengers were not allowed out for a long time. Although the pogromists did not go out on the field, they poked around in the hall, grabbing what could be easily endured. And when the passengers of the planes were still released, the girl decided to fly back – already on an export flight.
Upon landing in Chkalovskoye, all Russians were awaited by border control, and after it – by Rospotrebnadzor employees who did PCR tests. And there was also a question – how to get to Moscow. But this has already been solved. All terrible is left behind.